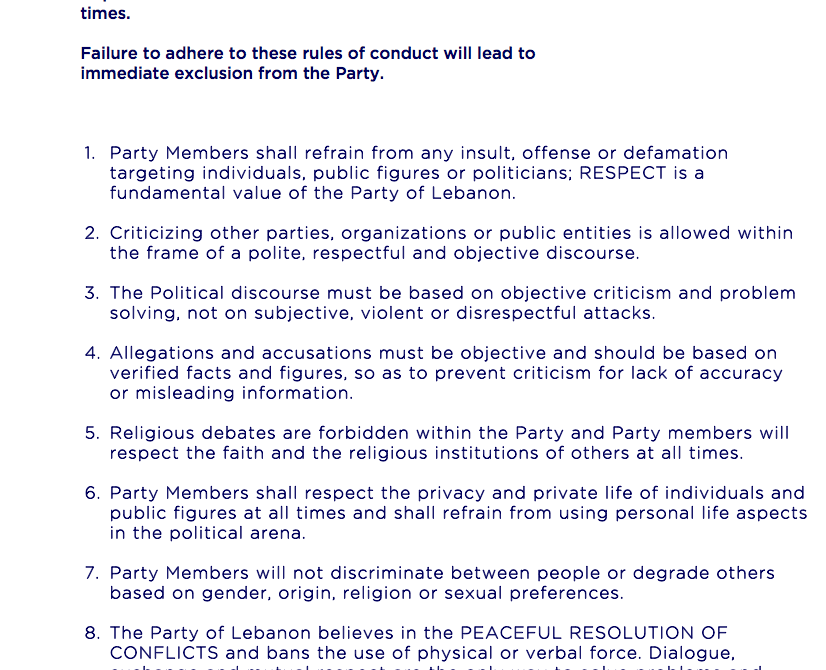 OUR TEN COMMANDMENTS
This Code of Ethics is to be followed by Members and Representatives of THE PARTY OF LEBANON at all times.
Failure to adhere to these rules of conduct will lead to immediate exclusion from the Party.
Party Members shall refrain from any insult, offense or defamation targeting individuals, public figures or politicians; RESPECT is a fundamental value of the Party of Lebanon.
Criticizing other parties, organizations or public entities is allowed within the frame of a polite, respectful and objective discourse.
The Political discourse must be based on objective criticism and problem solving, not on subjective, violent or disrespectful attacks.
Allegations and accusations must be objective and should be based on verified facts and figures, so as to prevent criticism for lack of accuracy or misleading information.
Religious debates are forbidden within the Party and Party members will respect the faith and the religious institutions of others at all times.
Party Members shall respect the privacy and private life of individuals and public figures at all times and shall refrain from using personal life aspects in the political arena.
Party Members will not discriminate between people or degrade others based on gender, origin, religion or sexual preferences.
The Party of Lebanon believes in the PEACEFUL RESOLUTION OF CONFLICTS and bans the use of physical or verbal force. Dialogue, exchange and mutual respect are the only way to solve problems and overcome differences.
The Party of Lebanon and Party members will respect the Laws and Regulations at all times. Bribing, nepotism, corruption and shortcuts are to be banned from the Party's life.
The use of force, arms and prohibited substances is strictly forbidden.